Florida Farm Bureau & PLF: together again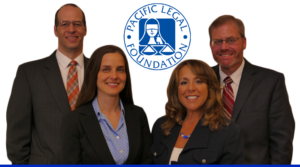 PLF Atlantic Center's Doug Kruse and I (Doug on left, me on right, along with PLF staff attorney extraordinaire Christina Martin and PLF paralegal wunderkind Paula Puccio) give a talk Monday (October 26) at 5:30 p.m. at the statewide Florida Farm Bureau office in Gainesville (FL) about PLF's fight against local, state, and federal bureaucrats. We could spend the rest of the month speaking about that topic, but we intend to limit the speech to about an hour.
Doug and I expect to talk about PLF's fight against the unconstitutional new 'waters of the United States' rule, the way in which the federal government uses the Endangered Species Act to violate property rights, and land use regulators in Florida who enforce illegal restrictions on property owners, and how PLF aims to stop that particular overreach.
If you are in the area, please join us.